Chomu Palace
Heritage of Chomu Palace, designed in Indian vastushastra philosophy the Erstwhile Chomugarh Fort (Thikana – Chomu) is a collateral branch of the Samode fiedom founded in the 16th century by Rao Gopalji in 1550, 4th son of Raja Prithviraj Singhji 1st of Jaipur.
Chomugarh fort initially was strategically built to house the armies and chiefs with a 5 meter thick outer protective wall to ward of invaders / enemies. From the time of Laying the Foundation in early 16th Century till its transformation from a Fort to a Palace in late 18th Century, Chomugarh witnessed close to 350 years of Architectural evolution.
The architecture of the Palace thus has been influenced in many ways by the culture and styles of the reigning Monarchy over 350 years and represents a rich Blend of Rajput, Mughal & European aesthetics, traditions and philosophy.
Unlike many Heritage hotels where the interiors imitate contemporary city hotels, Chomu Palace has been painstakingly restored to retain its original character and provides a realistic window to the Luxury, Elegance and Regality & Traditional Lifestyles of the Rajput Royalty. The hotel has been so restored as to offer the best in terms of comfort, with all modern facilities and yet has managed the modernity to blend in with tradition.
Hotel Chomu Palace, Chomu Town, is located on the National Highway 11, at a distance of 255 Kms from Delhi. The Palace has been carefully restored in all its Elegance & Regality, Traditional Luxury and Majestic Grandeur.
The hotel with 70 Suites subtly blends aristocratic ambience, old world hospitality and contemporary style. Each Suite, designed with heed to minutest detailing, Royal Antique furniture, Marble rooms, Luxurious Toiletries, offers an unparalleled experience in Luxury, Nobility and Old World Charm.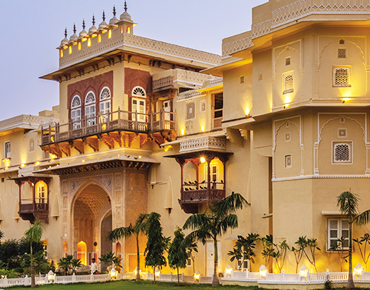 Dangayach Group
The Dangayach Group is an organization of highly motivated, disciplined and trained team members, technicians and managers who strive to implement cutting edge solutions in the fields of Jewellery, Hotels and Real Estate.

The Dangayach group was founded in 1966 and since then has pursued an unstinted path of growth. The Chairman - Mr. Hari Mohan Dangayach embarked into business 40 years ago.

The hotels owned and managed by the group :
Marriott Jaipur
Ramada Jaipur
Chomu Palace Jaipur
Radisson Agra
Le Meridien Hyderabad.