Chomu Palace
Chomu Palace, a reflection of the Royal Palaces of India, is a 300 year old elegant fortified palace hotel and one of the places to visit in Rajasthan. It revives the gracious lifestyles of the princes of Rajasthan and the heritage of India. It is an authentic and historic palace that discreetly blends with the modern amenities and facilities. This historic monument is designed according to the Indian Vastushastra philosophy. An integral part of the Rajasthan Tourism, this palace hotel in Rajasthan reverberates with regal and aristocratic memories.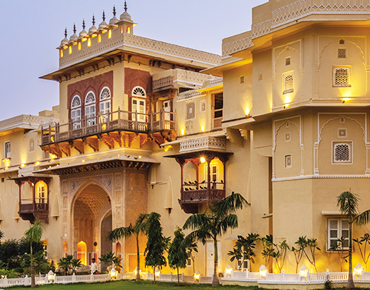 Dangayach Group
The Dangayach Group is an organization of highly motivated, disciplined and trained team members, technicians and managers who strive to implement cutting edge solutions in the fields of Jewellery, Hotels and Real Estate.

The Dangayach group was founded in 1966 and since then has pursued an unstinted path of growth. The Chairman - Mr. Hari Mohan Dangayach embarked into business 40 years ago.

The hotels owned and managed by the group :
Marriott Jaipur
Ramada Jaipur
Chomu Palace Jaipur
Radisson Agra
Le Meridien Hyderabad.